Cell phones at weddings have recently been the cause of a lot of "digital backlash".  Sometimes even to the point of Brides & Grooms issuing statements that their wedding will be "Unplugged".  Ironically, these statements are often sent by digital means such as email or e-vite invitations.  So where is the balance of digital device use on a wedding day?  And what can smart phones really do for us besides play games?
Phone: Communication is key to coordinating many weddings, so using a good ol' cell phone can save a lot of time.  Make sure your device is all charged up!
GPS: Guests traveling into a new location for a wedding event may need good GPS coordinates.  Check with your venue and make sure that the map app of your choice accurately shows the venue location.  Different maps may or may not show the same information – especially in rural areas.
Rehearsal Music: I am 100% against the idea of using iPhones or iPods for the primary music source at a wedding because of the high failure rate and inevitable "user error" problems.  However, I always encourage using such devices at a wedding rehearsal.  Playing the exact song track to be used during the wedding while a device is in your hand allows you the ability to time the walk down the aisle and start over without having to cross a room or bring a jambox.
Camera: More and more phones take excellent picture, so why not use them for candid shots and at-the-table pictures?  Just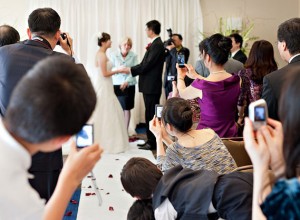 remember not to intrude on the professional photographer and things will be OK.  Just a few years ago, it was very popular to have a disposable camera on every table in order to get candid, casual shots.  Now they can all be shared using free or very low cost social media.  Shooting limited amounts of video is fun too.  Just know that sound will likely not be the best quality and you may capture some classic moments.
Planning Guide: Having the timeline on a digital document can help keep everyone in the know.  If you have a wedding coordinator, make sure that they deliver a timeline in digital form just in case you need to refer to it on the wedding day.  Contact information for all vendors is the most important part of this form.
Weather Radar: Often overlooked, a simple radar/weather app can take the guesswork out of outdoor wedding plans.  Make a plan in advance to let the weather app make the final decision at a specific time of day as to rain or shine.  If the app says it will rain at a specific time of day, then you will have to go to Plan B and setup indoors.  This decision should be made about 5 hours before the start time of an event.
Ceremony Coordination: Although I do not wholeheartedly recommend this use of cell phones, it is sometimes a good idea to equip two wedding coordinator/helpers with phones to signal each other.  This can help when getting wedding party participants to walk down the aisle from remote locations.  Caution: this MUST be tested in advance in order to assure a good signal and reliable communication.
Music Backup: Using a iPod/Phone for primary music playing is a bad idea due to the small form factor and typical user error.  However, having an iPod on hand with the special music loaded and ready is a great way to give you peace of mind should something go awry.  This can be particularly useful for ceremonies with live musicians that cannot show up, get stuck in traffic, get sick, or cannot play due to the weather or other reasons.
Live Video: I was at a recent wedding where the mother of the groom was too sick to attend.  So one of the sons used iPhone's Facetime feature to live-stream the entire event to his mom.  This is a free feature for newer iPhone users if both parties have similar iPhone models.  Skype can also work in a similar way and both services cost little or nothing.
We live in a well-connected, digital age from whence there is no return.  So knowing how to use these devices to our greatest advantage on such an important day can really be a big help.  Just remember to keep your phone on silent,  try not to intrude on the wedding photographer's line of site and bring your charger!