Are you on a committee to coordinate this year's company party?  Maybe you are a committee of one?  Either way, a company party can be a lot of pressure with tons of potential down-side if things go wrong.  If you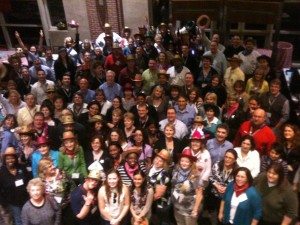 are planning a company party, consider this: the most important factor for the success of your event is the entertainment – not the food, not the venue, but whoever you entrust to make sure people have a good time.
"My friend is a DJ."  "I think Ted in Accounting has a band."  "My husband used to DJ in college." These and any similar statements made at committee meetings are usually born out of good intentions, but the facts are that a professional entertainer will be able to help you in ways that you probably have not even considered.
Of course a company party needs to be fun, but fun is a subjective term.  What about culturally sensitive?  What about family friendly?  These things are important too.  A hobby-DJ may have a great music selection, but can they make sure they have clean-edited music?  Most do not.  Even if the music is "clean", do you really want an inappropriate song played during your corporate event?  How much liability has your company now been exposed to because the discount DJ accidentally played a song with swear words in it?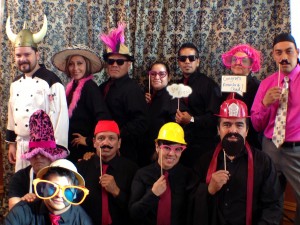 Liability is also a key factor when considering a DJ for your event.  Does the entertainer have liability insurance?  There is no "DJ License", so many venues now require proof of insurance for entertainers.  They do this because they know a professional will have it and an amateur will not.  Venues also know that if your entertainer caused guests to have a bad time, they will be remembered as the venue that had a lousy event.  Entertainers with liability insurance can play at virtually any venue in town and you are assured that they are serious enough pay for and keep up with a higher standard.
A good DJ & MC can also help with lots more than just music at your event.  Does the CEO want to address the company at the meeting?  We can provide a wireless microphone, sound system, and even video screens for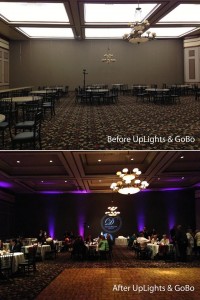 showing slide shows or a fun video.  Are you giving away prizes or having a raffle?  An experienced MC can make prize giveaways a lot more fun and exciting.  Do you want to set the atmosphere for dinner and then change it for dance time?  No problem.  Are you having a casino party?  Make it a Vegas Night with the right music.  What about fun games or dance instruction?  These are all things that a professional DJ & MC can bring to the table at your event.
Another factor for company parties can be the decor and lighting.  Some DJs can provide a variety of room-light options such as UpLights and GoBo Monograms.  Imagine your company logo prominently displayed in lights!  Even a plain room can be transformed by lighting to give your event a WOW factor.
Sometimes a PhotoSpot may be a great addition.  What about combining a Live Band and DJ?  Maybe even Karaoke?  Whatever you decide for your entertainment, remember that the few dollars saved on a discount-DJ is always outweighed by the value of a true professional.