This year is my 25th year working as a DJ & MC.  I started as a teenager (don't do the math, I'm still really young!) and somehow just kept on going.  Everybody has to start somewhere and thankfully someone snapped this photo of me at my very first gig in 1986 right here in North Texas.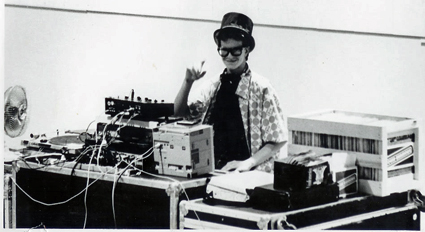 Over the years I have worked for many different DJ and entertainment companies, hired and trained literally dozens of other disc jockeys, and been a salaried Entertainment Coordinator in charge of hundreds of events per month.  As a result, I have been a part of too many events to even count (my best estimates put it at around 5,000 events with close to 500 of those being weddings).  I have even  owned, operated and sold a music store that catered to the karaoke market.
But all of that experience over the years has lead me back to the place I love the best and that is working for you!  As an independent DJ & MC, I get to work with the best clients in the world.  I cherish the Brides & Grooms that are putting together their special day.  I love working with schools to make sure their kids get the most value in a safe and fun way.  My corporate clients are some of the most innovative and exciting businesses anywhere!  I just love working with people.
Thank you to everyone who has been part of this journey and thank you to my current and future clients for continuing to put your trust in me.