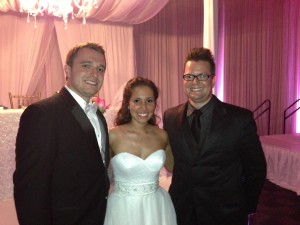 Being a wedding DJ & MC is (admittedly) an odd profession.  Most of us did not set out to be a "wedding professional", but over the course of years as a professional mobile DJ, some of us naturally gravitate to the energy, excitement, meaning and beauty of a wedding day.
In the "old days" people would hire an etiquette coach, consult a wedding procedure book, hire a seasoned wedding coordinator, etc.  But in modern times, newly engaged couples and their families often turn to the DJ for this information!  This can be a crazy shot-in-the-dark for those couples who know little or nothing about what to expect in the ways of wedding procedures and etiquette.
Up until the last 5 – 10 years, the thought of using a DJ for wedding ceremony music was almost unheard of – now it is commonplace.  This also lays an extra responsibility on a DJ & MC.  What music to play and when?  Classical or pop music?  Is there a singer or live musician added to the mix?  How long is each song?  When does everyone walk down the aisle, etc.?  How do you handle different family dynamics like divorced parents, children, etc.?
Also in the last 5 years, lighting has become a major component for a lot of DJs.  This means that not only does a DJ & MC need to be responsible for music, announcements, ceremony etiquette, timeline, event flow and more, but now many events also rely on the DJ to help decorate the room with UpLights, GoBo Monograms or other lighting effects.
Many times, I will receive an email simply asking for a quick quote.  But with so much to be responsible for, it is always best to talk about it in person (or at least over the phone) to get a complete picture of the vision the bride & groom have in mind for their special day.
These events only happen once in a lifetime and I want to do everything I can to help my clients understand what they need to achieve their vision and then help them get it.  :^)