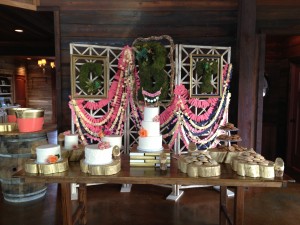 We live in Texas and what says "Texas" more than a country-style wedding?  Surprisingly to a lot of people, the Dallas/Fort Worth area is consistently ranked as one of the top wedding cities in America when looking at weddings per capita.  As a result of this fact,  weddings in Dallas, Fort Worth, Arlington, and the surrounding areas of North Texas have the widest variety of different wedding styles in the nation.
One trend that is somewhat unique to our area is the idea of a Country Chic wedding.  The usual idea behind this is an outdoor wedding ceremony followed by an indoor reception at a rustic venue such as a ranch, barn, or even a vineyard (thank you Grapevine!).  Decor is usually minimal and typically will have a "country feel" such as burlap table runners over a standard table linen.  You will often see mason jars either as decoration or as drink service.
Many weddings of this type opt for a limited food menu.  Texas barbecue with potato salad, and baked beans is common fare.  But the all-time crowd-pleasing favorite tends to be a fajita buffet with beef, chicken, rice & beans, and a salsa, chips & queso station.  Not only is the Tex-Mex option easier on a budget than most wedding buffet food items, if there is too much food, it tends to freeze well and can be enjoyed later.  With the average guest count of 138 for DFW area weddings, food can be a major expense.  It is not uncommon to also see a limited beverage choice with beer & wine only or sometimes no alcohol at all.
One of the most surprising features that a Country Chic wedding affords a bride & groom is great leeway on the wedding cake/dessert options.  When selecting a BBQ dinner, I recommend skipping the standard cobblers that often accompany such meals at a restaurant as they rarely get much attention at a wedding.  Instead, I often see minimal wedding cakes or even home-made wedding cakes that have a beautiful sentiment to them as they are made by someone in the family.  Some couples also opt for additional desserts such as a variety of fried pies, homemade favorites like banana pudding.  Others even ask certain guests to bring a dessert pot-luck style.  Of course, this is not for everyone and not every venue will allow such choices, so check with your venue for the terms of their catering.
Country Chic weddings are usually described to me as "simple", but I often am wary of that term as even the simplest wedding still has many moving parts and once-in-a-lifetime moments that are not to be missed.  As your DJ & MC for the event, I will help put together the right musical choices for the ceremony and reception.  Yes, we may want country music, but what kind and how much of it?  Country & Western, Classic Country, Modern Country and Texas Country are just a few of the musical genres to choose from.  Many times a wedding is "seasoned" with country music, but also has other music genres mixed in such as popular music, oldies, 1980s, motown and more.
An outdoor ceremony almost always goes better with the officiant wearing a wireless lapel microphone.  Sometimes a guitar or singer need help with sound too.  All of these things are determined during the planning process and do not have to be decided right away as we can talk about specific needs as they come along.

During the reception, a good Master Of Ceremonies will be able to help take care of your guests, direct traffic (so to speak) and make sure people know where to sit, what to do, etc. prior to the bride & groom and family arriving from taking pictures.  With the minimal feel of most Country Chic weddings, dance floor lights are usually all a bride and groom want.  Sometimes a video screen is needed to show a slide show/photo montage.  Other times a lighted monogram with the couple's names is a nice touch.  Rarely do these events require UpLighting with the exception of a tent wedding reception.
Country Chic can definitely be a money-saver while at the same time expressing the personality of the happy couple.  Just remember as with any style wedding, the biggest factor in the success of the night is having a seasoned professional help to plan it with you in advance.