What does money management have to do with hiring a DJ for my wedding?  Who is this guy that is writing this article anyway?  What does he know?  Well…
Lately I have had some interesting conversations with brides & grooms about their wedding expenses.  I am pleased to say that one of the trends that I have recently observed is that brides & grooms are seeking to have wedding ceremonies and receptions that do not cause them to go into debt.  Call it "the new economy", being frugal, or just being practical – brides & grooms these days want the most value for each dollar spent.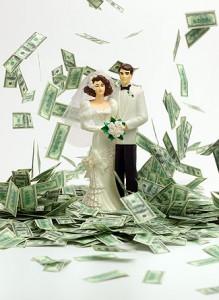 Among so many other things (like playing music for example), a good wedding DJ & MC should also bring you a wealth of knowledge about how to speak with other vendors, tips and tricks to save money, cautionary tales of ways to avoid getting ripped-off, how to receive value-added packages etc.
As an experienced wedding disc jockey, I have seen lots of vendors in action, so it is in my best interest to make sure that my bride & groom will be happy on their special day.  If I can help them save money along the way with different ideas or recommendations, then I see that as an unwritten obligation.
Yes, I am a wedding professional.  But I am also a happily married parent of three kids and I know the hardships and stress that money problems can bring a family.  As I see young people moving toward their wedding day, I am always aware that the number one cause of marital strife is non-other than debt & money problems.  This surprises some.  But as our society seems to be getting better educated in the ways that money works, I am pleased to see the trend of moving away from frivolous expenses and putting money where it will mean the most on your special day.
The American Disc Jockey Association conducted a survey of brides just after their wedding day and determined that the one item above all others (except for the venue) that they would have paid more attention to was the wedding reception entertainment (like a DJ or Live Band).  In the minds of most guests, the wedding DJ & MC (more accurately the music played and the announcements made) were the most critical factor to the success of the event.   This means that the success of the DJ & MC contributed to the overall success/failure of the event regardless of the quality of the food, flowers, videographer, photographs, dresses, formal wear, decorations, party favors, etc.  This is what adds value!
When making the selection of key components for your reception try to "remember what people remember" and that getting the cheapest price isn't always the best value.  Also remember that getting into debt to pay for a one-day event can put a touch of grey in what should be a beautiful day.  Brides & grooms receive a lot of gifts on their wedding day, and one of the best gifts to give yourself is a wedding day that is debt-free.
Note: even if you are not one of my happy couples, I am pleased to share tips & tricks with you to save money on your wedding day.  Feel free to email me at [email protected].